Cabinets by Design Joins Crystal Cabinet Works Dealer Network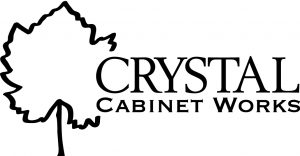 Cabinets by Design, a premier kitchen, bath and appliance showroom, announces that it has been named the sole dealer for Crystal Cabinet Works in the New Orleans market. Crystal Cabinet Works is a family-owned, custom cabinetry manufacturer located in central Minnesota. Widely recognized for the exceptional value it builds into every cabinet, its custom cabinetry is sold through independent kitchen and bath dealers throughout the USA and Canada.
Since 1988, Cabinets by Design has been providing planning and design services for the discerning New Orleans homeowner. The showroom offers cabinetry, appliances, hardware and plumbing for the entire home including kitchens, bathrooms, wet bars, butler pantries, libraries and closets. The design team, led by Monique Poché Bennett, made the decision to partner with Crystal Cabinet Works based on the company's unyielding commitment to the same level of quality and design that Bennett and her team have built their business upon.
Cabinets by Design is currently taking orders for this new line of cabinetry and will soon premier a selection of new displays showcasing quality products by Crystal Cabinet Works. Call to talk to a designer or make an appointment to visit their beautiful showroom in Uptown New Orleans.